December 5, 2012
One of my clients of my Swiss illustration & design studio Atelier Giselle – the branding and e-commerce specialists SNK – recently brought this bridal photo shoot to my attention. So glad they did, it's absolutely gorgeous. Enjoy!
I always love when businesses take a unique approach (go figure, I'm passionate about branding, and that's what great brands are all about! haha). This photography & art direction team created something truly stunning here. The shoot really has something special, it's almost drawing me into a different world, just one step away from Old Hollywood… do you get that too, when you look at the photos? Of course the Papilio wedding gown collection is absolutely ravishing too! See the full Papilio 2013 collection photo shoot here on Behance!
CREDITS: Photographer: Andrey Yakovlev. Art-director: Lili Aleeva.  Models: Anastasiya Kutshinskaya, Margo Migel, Dasha Collection: Papilio 2013
November 7, 2012
If you're shopping for your bridal gown, or even just like to swoon over stunning gowns, you have to take a look at the Cymbeline 2013 Spring Bridal Collection. A few sneak peeks:
all images with courtesy from fashionbride - see the full collection here on fashionbride
See the Art Decon influence in the first gown, and the fifties touch in the second? For the last one, I'm feeling a bit of beginning last century style with the intricate lace detail and feminine flow of the silhouette. Which is your fave?
October 29, 2012
This year I wasn't able to attend NYC bridal market – but thanks to my lovely blogger friends, inspiration is only a click away! Here are some of my personal favorites, spotted on Merci New York:
Love this Ines Di Santo SS 2013 gown – it's very unique how the lace draps around the bride's shoulder, and very elegant!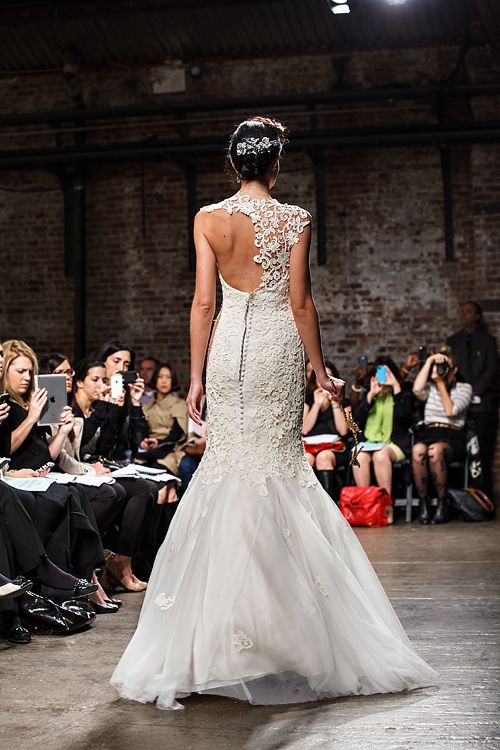 Ines Di Santo SS 2013. More about this gown here on Merci New York
I'm always smitten with amazing details. This is definitely a stunner: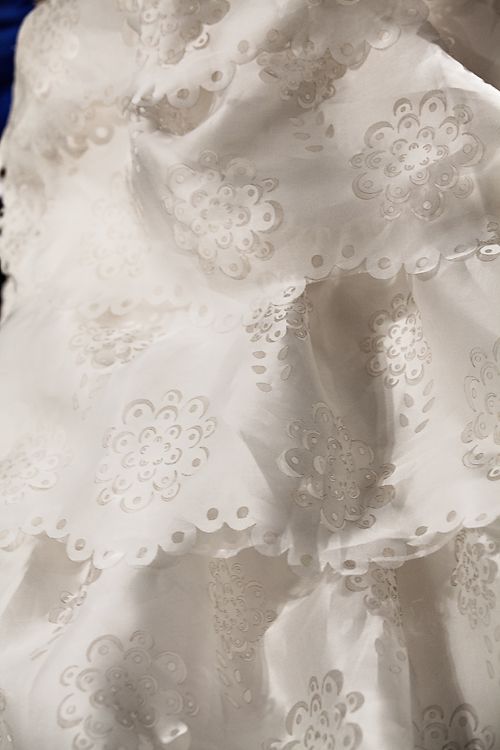 Ines Di Santo SS 2013. More about this gown, and from the Ines Di Santo show here on Merci New York photos by Sofia Negron
stunningly creative and amazingly intricate – from the Reem Acra SS 2013 collection: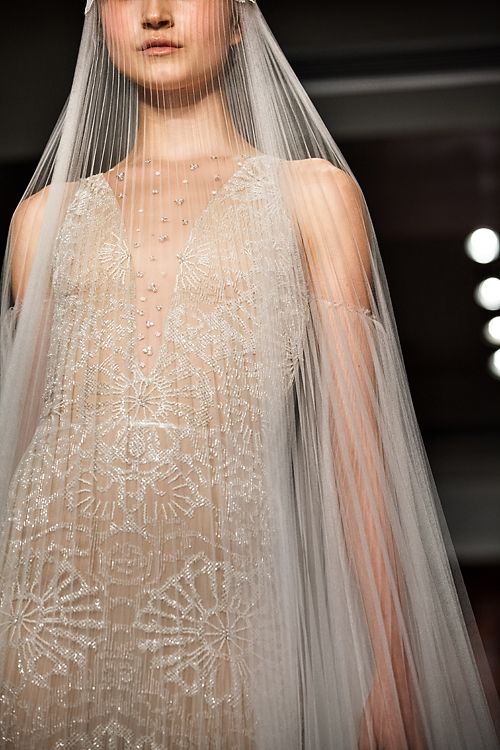 image via Merci New York photo by Sofia Negron
Overall, I'm spotting a lot of inspiration from the non bridal runway shows, for example transparency, or a hint of Art Deco and the Jazz age as muse. If you're getting married this season, you'll have a lot of beautiful designs to choose from!
October 24, 2012
Today I'm very excited to shine the spotlight on one of my dear friends and brand design customers, Beverly Harris from Beverly Harris Weddings, Beverly Hills. No, her name was not chosen on purpose for her brand, it's for real, by chance! Or fate. Because Beverly had been dreaming of working in Beverly Hills for years, until a few years ago, she turned it into reality and moved there.
Now she caters to brides who share the same love for the glamorous area, and dream about getting married in Beverly Hills or Los Angeles. Join me as I interviewed Beverly and asked her to reveal a few secrets about how she works!
event design: Beverly Harris Weddings photo: HarvardPhotography.com
What type of event design commissions bring out the best in you, and why?
Every wedding has its own special design, and they are all beautiful. But the one design that brings out the best in me is a classic design with a color palette of white or cream with a hint of color.  A room filled with lots of flowers with hanging crystals and candles that compliments the lighting on the walls. A gorgeous white round dance floor and beautiful white or cream lounge furniture with a pop of color that separates it from the reception décor. The sweetheart table would have a gorgeous backdrop with lots of white or cream flowers with a pinch of sparkle in each flower that sparkles when hit by the light.
event design: Beverly Harris Weddings photo: vivianlinphotography.com
Which is one of your absolute dream venues for a wedding celebration, and why?
Actually, I have several dream venues for different reasons. I love hotels because they can make your life as a planner so easy. Private estates are other venues that I love because of the outdoor atmosphere. Another venue I love is an open canvas venue because I can let my creative juices run wild without any restrictions.
event design: Beverly Harris Weddings photo: evokephotography.com
What kind of wedding design trends are popular with your brides these days, if any?
I have quite a few brides that use photo booths at their wedding. It adds a fun activity to the event.  Although I'm not a fan of weddings being trendy. That means the décor, dress, photos and everything else should be "timeless". I believe that if a bride wants to include a trend into her wedding, she could purchase a second dress for the reception and change her shoes and jewelry for a new look.
event design: Beverly Harris Weddings photo: HarvardPhotography.com
What was one of the most unique celebrations you've ever designed, and why?
One of my most unique celebrations was a multi-cultural wedding. The wedding started with a Hindu ceremony where the bride was dressed in a gorgeous Sari and groom rode in on a horse lead by a Mariachi band. Later followed the tradition "White Dress" ceremony. Onto the reception where the bride and groom changed again. The reception theme was Hollywood style. The location was Madame Tussauds. This was the first time a wedding had ever been hosted there. Throughout the evening we were surrounded by celebrity figurines, Lady Gaga, Johnny Depp and many more. It was awesome!
event design: Beverly Harris Weddings photo: HarvardPhotography.com
If you could give your brides one recommendation only, what would that be?
Enjoy the wedding planning process. Your wedding day will come and go before you know it.
event design: Beverly Harris Weddings photo: vivianlinphotography.com
Thank you so much Beverly, for sharing! I love your sense of style, and am looking forward to your next wedding celebration photos!
To you, my dear readers, if you're intrigued to learn more about Beverly, or are dreaming of getting married in Beverly Hills, visit Beverly's website and portfolio on www.BeverlyHarrisWeddings.com and don't miss out on her lovely Beverly Hills style blog www.TheBeverlyHillsInsider.com – always worth a visit!